I am SO FREAKING EXCITED that I signed into my old email account and saw a blog I used to follow has started up again with Friend Making Monday (FMM).
I've been following Kenlie for a while now (over a year) and she is such an amazing inspiration. If you haven't seen her blog yet, go
HERE to All the Weigh
and check out her story.
Back to the FMM, Each week Kenlie posts a couple of questions. You are supposed to answer the questions on your blog then link your blog post to hers so that the people who read her blog, also see yours. I'm so excited
This weeks theme is:
Before Photos
Are you on a weight-loss journey? Have you lost weight in the past? Are you trying to lose it now?
Yes, I am on a weight loss journey. Its been really slow process. I'm trying to lose 35-40lbs by June (my 5th anniversary
Do you like being in pictures, or do you shy away from the camera?
I shy away from the camera before. I'm really really self conscious about the way my body looks and the way my teeth look so I normally do the photo taking, not the other way around.
Does looking at old photos of yourself motivate you?
Old photos of me are a motivation, I was so fit and thin back in the day. The weight just kept creeping creeping creeping up on me and its sometimes hard to look back because It makes me sad that I let myself go.
Weight-loss bloggers, do you post progress pictures on your blog?
I will once I start to see some difference. I have "before" pictures. But i haven't posted them because i'm to embarrassed.
Will you share a before photo with us (even if you don't have an after yet?)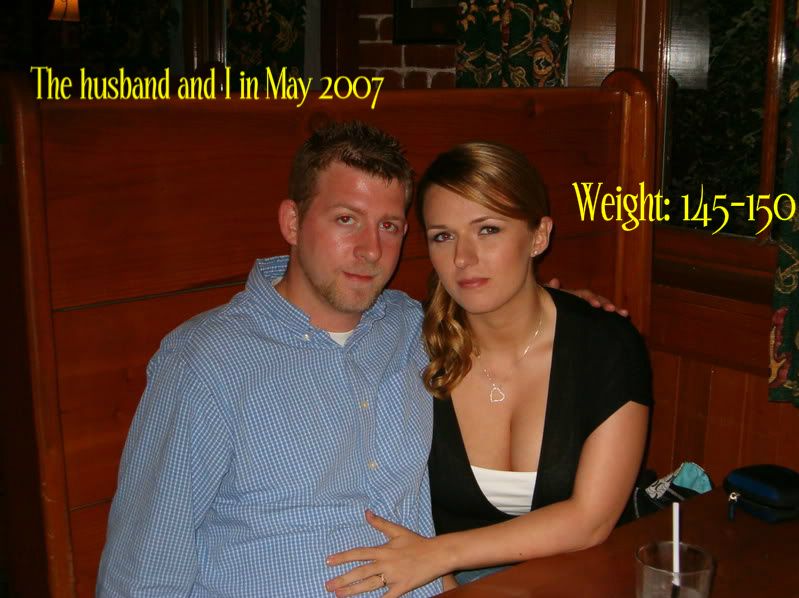 This is my inspiration Picture (May 07) at roughly 145/150lbs
This is my "before" picture. Taken July 2011 at roughly 190lbs.
I tried to look for a full body shot, but like i said before I'm normally the one taking the pictures