Time For Time Out Thursday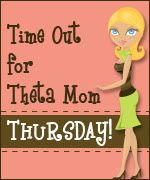 Good morning all, Its
Time Out Thursday
again. I love that its already thursday.
This week was similar to last week.
My time out this week was MAKING (not finding making time!) Time for the gym. I tried their boot camp class again. And while i love love love it. I'm still quite sick and couldn't make it through their whole class. The real teacher was back this week, he's freaking awesome. He's Air Force Special Forces. And he's a freaking KILLER!
I'm so so sore. He yelled. He screamed. He MOTIVATED. I'm so excited for next week to go back!
Then i came home, made my Pasta Bake, and had
2 glasses
1 bottle
1 small bottle (makes me feel better) of wine. and watched dexter with my loving husband and my sick baby boy (sammy had issues yesterday, long story)
My time out thursday = gym + wine + food + cuddletime!!!