So I'm new to
Time Out for Theta Mom Thursday
. So I t might be a little different than most because I'm not a mom. Unless you count my Sammy, but I don't think it works that way. So Thursday @
Theta Mom
are all about how you can take just 1 hour a week for you. She classifies it as 'with out kids' but since i don't fall into that category yet, I'm saying I'll take an hour for me to do what
I
want!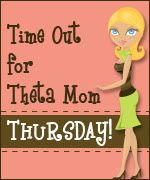 My 'time for me' won't come till Tomorrow Night actually, but I'm going to use it anyways.
This weekend I have drill, and I'm drilling alone. B's Drill was 2 weeks ago. Long story, we have a new command staff and they're doing things all screwy. But Friday I get to do one of my favorite things, spend uninterrupted time with my lap top.
lol
.
My favorite Thing about drills alone is getting
Apple Bee's
Carside
to go, a big diet coke, and going back to room and relax. I know it sounds silly and totally boring but i really enjoy it.